First and foremost, let me take a moment to express how grateful I am to all of you for choosing to follow Nesty. When I started my wee blog back in February, I never thought that I would see 18 readers, let alone 83 beautiful people who took the time to officially follow me. You are the juice that keeps the Nesty engine rolling, and your comments bring joy to my day. I have found some truly great people out there in "Blogland" and I look forward to reading your posts and sharing your lives. Thank you!!!!
Now that I have the sap out of the way, it's time to share my excitement with you. It's Fall!!! Maybe not officially, but in my heart and all around, Fall is Here!!! All throughout blogdom I have been reading posts about Autumn and it's just served to feed my personal love of this time of year! For me, the best time of year starts in September, and the good times just keep rolling to the end of the year. Personally, if we could just stop on Christmas Eve, roll back to September 1, and start it all again, that would be fine by me! The build from September to December is a veritable festival, one that I live and prepare for all year long!
A few weeks ago I shared how to me, September is the spiritual start of my year, a time for new beginnings, new projects, and new resolve (not resolutions!). To that end, I am embracing the season this year as a time to "re-energize" Nesty. Oh, we've kept to our posting schedule (except for Wednesday, when we were a little late...sorry folks, more on that next week!) but lately we've been feeling a little faded and dusty. So, I've relied a little bit more on "Wordless" posts. I'm not getting rid of "Window to My World" (my wordless posts) but they won't be making weekly appearances. Instead, I have been brainstorming up new post ideas, and ways to share them. Over the next few weeks, I'll be sharing some of the following new ideas with you:
Housewife Confidential - The trials and tribulations of a not-so-traditional housewife.

Scraps of Me - Posts about my scrapbooking

In Stitches - Sewing projects

Recipe Challenge - Recipe development by moi!

I Feel Pretty - Posts about being fashionable and feminine in the house and out.

The Great Outdoors! - Our adventures in "Super, Natural British Columbia"

Links I Love - Links to some of my favorite blogs and websites

Christmas Countdown - A monthly "report card" on how my "homemade Christmas" progress is going!
I'll fill in some more details as these posts make their debuts. In some cases, these posts are serving as motivation for me to keep creating; hobbies like scrapbooking and sewing can sometimes go by the wayside if you don't make time for them. In addition, I'm very excited about December, when I'll be celebrating like mad with a Month Long Christmas Festival! That's right, there will be posts every day in December leading up to Christmas! I'm so excited to share my preparations for my favorite holiday with you!
I'm also going to be making the rounds of the blog hops again. I have my favorites that I visit every week but I feel it's time to get out there and mingle again! If you know of any good new ones, please let me know. I love to find new blogs and make new friends! Here are some new hops I'm checking out this weekend: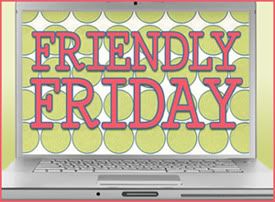 I'm so excited! Have a wonderful weekend! See you on Monday!